WARNING: Cancer and Reproductive Harm - www.P65Warnings.ca.gov
Bailey Fischer & Porter Flow Meters and Rotameters
This is a list of older Bailey, Fischer & Porter Flow Meters with the Recommended Replacements.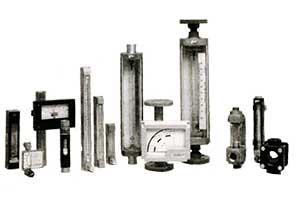 The Fischer & Porter Company, founded in 1937, has long been a leader in the design and manufacture of process instrumentation. The Fischer and Porter brand has long been associated with an industry-leading range of flow measurement products, along with devices to measure, indicate, and control other process variables including pressure, temperature, level, and more.

In 1994, Fischer & Porter was acquired by Elsag Bailey Process Automation (EBPA), a strategic union which recognized Elsag Bailey's primary strengths in the distributed systems area and Fischer & Porter's expertise in process instrumentation. With the 1999 acquisition of Elsag Bailey by ABB, these products became a cornerstone of a larger portfolio of process instrumentation and control.

Today, Fischer & Porter products are fully integrated into the ABB portfolio of world class process instrumentation products including magnetic flow meters, and other flow measurement technologies including variable area, vortex shedding, and mass flow. Market leading systems for dosing and filling are also available.
Fischer & Porter
Models
Current ABB Replacements
Models
Fischer & Porter
Model 10A0735
Indicating Flowrator Meter
Specifications
Model 10A4500
Fischer & Porter
Model 10A1017/18
Glass Tube Laboratory Rotameter
Specifications
ABB Model 10A6132
Functional replacement
10A1017/18
used hose connections
Fischer & Porter
Model 10A1027/28
Glass Tube Laboratory Rotameter
Specifications
ABB Model 10A6132, 10A4500
Functional replacement;
10A1027/28
used hose connections
or Flanged Connections
Fischer & Porter
Model 10A1145
Armored Meter with Vertical Inlet
and Horizontal Outlet
10A1151 is High Pressure Version
ABB Model FAM 540
Only has Vertical Inlet
and Outlet Connections
Fischer & Porter
Model 10A1151/52
Armored Meter with Vertical Inlet
and Horizontal
Outlet 10A1151 is High Pressure Version
Specifications
ABB Model FAM 540
Only has Vertical Inlet
and Outlet Connections
Fischer & Porter Model
10A1152-(OM)
Armored Meter with Vertical Inlet
and Horizontal Outlet Specifications
ABB Model FAM 540
Only has Vertical Inlet
and Outlet Connections
Fischer & Porter
Model 10A1156-(0K)
Armored Meter with Vertical Inlet
and Horizontal Outlet
ABB Model FAM 540
Only has Vertical Inlet
and Outlet Connections
Fischer & Porter Model
10A1164

Direct Replacement with
Model 10A6131 and
10A6132
installation piping may vary
Fischer & Porter
Model 10A1227
High Pressure Armored Purge Meter
Specifications
ABB Model 10A3225
with high pressure option
up to 2900 psi


Fischer & Porter
Model 10A1250
High Capacity
Glass Tube Purge Meter Specifications
No Direct Replacement
Possibly 10A3225, or 10A4500
Fischer & Porter
Model 10A1300/40
Thick Wall
Glass Tube Purge Meter Specifications
Direct Replacement with
Model 10A6131 and
10A6132
installation piping may vary
Fischer & Porter
Model 10A1435

Direct Replacement
with Model 10A6131 and
10A6132
installation piping may vary

No image currently available
Fischer & Porter
Model 10A1460
Glass Tube Purge Meter

Direct Replacement
with Model 10A613,
installation piping may vary
Fischer & Porter
Model 10A1485

Direct Replacement
with Model 10A613,
installation piping may vary
Fischer & Porter
Model 10A1700
Glass Tube Rotameter Specifications
Direct Replacement
with Model 10A4500
for ½ to 2 inch size and
10A6132 for 1/16 to ¼ inch size
Fischer & Porter
Model 10A2147
High Pressure Glass Tube Purge Meter
ABB Model FAM 540
Only has Vertical Inlet and Outlet Connections
Fischer & Porter
Model 10A2152
Specifications
ABB Model FAM 540

Fischer & Porter
Model 10A2227A
Armored Meter with
Dial Indicator
Up to 1"
Specifications
ABB Model 10A32
up to 1" and
FAM 541
for 1½ to 2 inch meters
Fischer & Porter
Model 10A2227A
Armored Meter
with Dial Indicator
1½ to 2 inch meters Specifications
ABB Model 10A32
up to 1" and
FAM 541
for 1½ to 2 inch meters
Fischer & Porter
Model 10A2235A
RATOSIGHT
Specifications
ABB
Model 10A2235A
RATOSIGHT
No image currently available
Fischer & Porter
Model 10A2700
Glass Tube VA Meter Specifications
Direct Replacement
with Model 10A4500
for ½ to 2 inch size and
10A6132
for 1/16 to ¼ inch size
Fischer & Porter
Model 10A313
Glass Tube Purge Meter Specifications
Direct Replacement with
10A6132
Fischer & Porter
Model 10A3220
Armored Purgemeter
ABB
Model 10A3220
Armored Purgemeter
Fischer & Porter
Model 10A3500
Glass Tube VA Meter Specifications
Direct Replacement with
Model 10A4500
Fischer & Porter
Model 10A3700
Model 10A3800
Glass Tube VA Meter Specifications
Direct Replacement with
Model 10A4500
No image currently available
Fischer & Porter
Model 10A4500
Glass Tube VA Meter
Direct Replacement with
Model 10A4500
No image currently available
Fischer & Porter
Model 10A4500-PVC
Glass Tube VA Meter with PVC connections
Specifications
Direct Replacement with
Model 10A4600
Fischer & Porter
Model 10B3000, 3500, 3600
Glass Tube By Pass Meter Specifications
Direct Replacement with
Model 10B4000
No image currently available
Fischer & Porter
Model 10B4500
Glass Tube By Pass Meter Specifications
Direct Replacement with
Model 10B4000
Fischer & Porter
Model 10A5000
Armored VA Meter
Specifications
Replace with
FAM 540 which has a shorter
installation length
Fischer & Porter
Model 10A5400
Armored VA Meter
Specifications
Direct Replacement with
FAM 540
Fischer & Porter
Model 10A5400-TFE
Armored VA Meter
Specifications
Direct Replacement with
FAM 540
Fischer & Porter
Model 10A6130


ABB
Model 10A6130
Fischer & Porter
Model 71K1020
Glass Tube Impact Meter Specifications
No Replacement
Fischer & Porter
Model 10E1200 Sight Flow Indicator Specifications

No Longer Sold