Fischer & Porter 10A2227A Metal Tube Rotameter
This has been discontinued-see below for alternatives
Series 10A2227A Metal Tube Rotameter is an inexpensive corrosion-resistant flowmeter for use in all industrial atmospheres.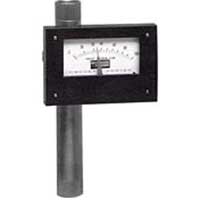 For high pressure, high temperature fluid flow indication on a 4 inch horizontal segmental scale.

Stainless steel body and float. Weather resistant ABS resin case turns easly to face in any direction. Float and indicator are magnetically coupled so there is no direct shaft connection, no stuffing box.
SPECIFICATIONS:
Accuracy:

± 5% full Scale; Repeatability: ± 1% Rangeability: 10 to 100% full scale

Scales:

4 inch long, marked 10-100%

Materials:

Float and Body Stainless Steel Type 316; Snap Rings: PH15-7MO SS; Case: ABS Resin

Temperature Limits:

400°F

Pressure Limits:

1500 psig @ 100°F

Mounting:

In-line, Vertical
Models: 10A2227ABXXX_ _ 15XXXXXB
CONNECTION SIZE
LIQUID FLOW
GAS FLOWS
Inches NPT
Max Flow
Code
Max Flow
Code
1/4
10 gph
2B
1/2
25 gph
3C
1/2
75 gph
3E
5.2 scfm
3P
1/2
150 gph
3F
10.3 scfm
3Q
1
5 gpm
4G
20.6 scfm
4R
1
7.5 gpm
4H
30.9 scfm
4S
1
15 gpm
4J
61.8 scfm
4T
1-1/2
25 gpm
5K
103.0 scfm
5U
1-1/2
50 gpm
5L
206.0 scfm
5V
2
75 gpm
6M
309.0 scfm
6W
2
100 gpm
6N
412.0 scfm
6Y