WARNING: Cancer and Reproductive Harm - www.P65Warnings.ca.gov
ABB Series 10A4600 Glass Tube Rotameter with PVC End Fittings
ABB Series 10A4600 is a glass tube rotameter (variable area flow meter) similar to the 10A4500 model but with PVC end fittings, with the option of stainless steel, tantalum and ptfe or PVC coated floats.
Glass tube rotameter (Sizes ½, ¾, 1, 1½, 2") with NPT or flanged connections, Snap-in tube and protective shield, Optional alarms. Used for monitoring fluidflows (gas or liquid) in variety of applications where stainless steel is not acceptable.
Materials of Construction
Glass Tubes: high strength - borosilicate glass, scratch resistant, snap-in tubes, easy to remove, replace & clean
Rugged Frame Body: 300 series stainless steel for corrosion resistance and strength, resists bending during installation
Versatile Mounting: in-line, front panel or rear panel
Protective Safety Shield: polycarbonate shield is standard for operator protection, snap-in design for easy removal
Float Materials: Stainless Steel, Tantalum, Teflon and PVC (lead loaded)
Packing: Teflon
Fittings: PVC
Tube Rest Gaskets: Teflon
Choice of Scales; percent (%) of flow, direct reading in engineering units, or millimeters.
External Module for Relay Alarms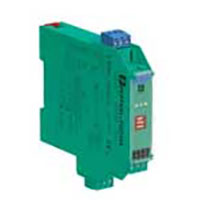 Supply Voltage:

120V ac ±15%, 45-65 Hz

Contact Rating:

Max. 250V; Max. 2A

Sensor Switch Cable:

Standard - 6.5 feet
Optional - up to 980 feet

Safety Classification:

The sensor(s) is intrinsically safe for Class I, Div. 1, Group A, B, C & D and Class II, Div. 1, Group E, F & G when connected with control amplifier mounted in non-hazardous location.
| CHANNEL | TYPE | SUPPLY | MODEL | PART NUMBER |
| --- | --- | --- | --- | --- |
| 1 | SPDT | 115 VAC | KFA5-SR2-Ex1.W | P/N163A012U01 |
| 1 | SPDT | 220 VAC | KFA6-SR2-Ex1.W | P/N 163A012U05 |
| 1 | DPDT | 115 VAC | KFA5-SR2-Ex1. W. LB | P/N 163A012U03 |
| 1 | DPDT | 220 VAC | KFA6-SR2-Ex1. W. LB | P/N 163A012U04 |
| 2 | SPDT | 115 VAC | KFA5-SR2-Ex2.W | P/N 163A012U02 |
| 2 | SPDT | 220 VAC | KFA6-SR2-Ex2.W | P/N 163A012U06 |
| 1 | SPDT | 24 VDC | KFD2-SR2-Ex1.W | P/N D163A011U03 |
| 2 | SPDT | 24 VDC | KFD2-SR2-Ex2.W | P/N D163A011U06 |
| 1 | DPDT | 24 VDC | KFD2-SR2-Ex1.W.LB | P/N 163A012U07 |