ABB Series 10A2235A RATOSIGHT™ rotameter
10A2235 Glass tube rotameter - RATOSIGHT™ is available (Sizes 1/4, 1/2, 1, 2") with NPT threads and offers unique piping arrangements to fit most applications due to its hollow bronze body and multiple connections. Optional alarms can be added.
Widely used for cooling water monitoring and forced bearing lubricant flows with alarm.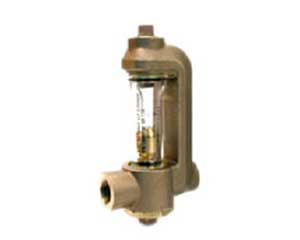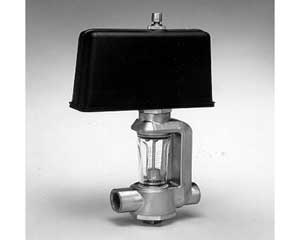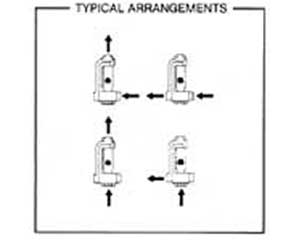 Borosilicate Glass Tubes; high strength, scratch resistant, snap-in tubes, easy to remove, replace & clean
Rugged 85-5-5-5 Bronze Frame Body
Float: Standard - brass for liquids, aluminum for gases; stainless steel float extension
is used on alarm unit for liquids and gases. Optional - Monel float for liquids only.
O-rings: Standard - Buna-N; Optional - Viton A.
Scale: Directly on tube in either gpm water or scfm air at 14.7 psia and 70°F (101 kPa & 21°C). Other scales optionally available.
10A2235A RATOSIGHT™ Flow Rates
10A2235A Flow Rate Table

10A2235A RatioSight™ Flow Rate Indicator: Body: 85-5-5-5 bronze, Float: Brass for water; Aluminium for Air, O-rings: Buna-N, Optional: Viton-A

10A2235A
Max. Press
psig
Standard
Accuracy
Special
Accuracy
Water
gpm
Air
scfm
1/2" NPT
175
± 10%
±5%
0.36-4
0.6-9
1" NPT
125
± 10%
±5%
6-11
14-26
1½ NPT
100
± 10%
±5%
15-24
36-60
2" NPT
75
± 10%
±5%
35-50
80-110
10A2235A-OA Flow Rate Table with Alarm

10A2235A-OA RatioSight™ Flow Rate Indicator with alarm: Body: 85-5-5-5 bronze, Float: Brass for water; Aluminium for Air, O-rings: Buna-N, Optional: Viton A; SS float extension and well;

10A2235A-OA
Max. Press
psig
Standard
Accuracy
Special
Accuracy
Water
gpm
Air
scfm
½" NPT
175
± 10%
±5%
1.3-4
5.6-9
1" NPT
125
± 10%
±5%
6-11
14-26
1½ NPT
100
± 10%
±5%
15-24
36-60
2" NPT
75
± 10%
±5%
35-50
80-110