Fischer & Porter 10A3220 Metal Tube Purge Meter Type Rotameters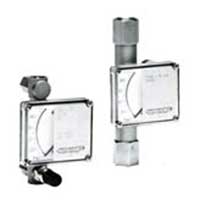 Series 10A3220 Metal Tube Purgemeter is an extremely compact, rugged low flow armored purgemeter especially designed for low flow measurements of liquids or gases at high pressure and/or high temperature or in applications where glass tubes are not satisfactory. A vertical dial indicator affords easy readability.

Simple and inexpensive. All Stainless steel Magnetically-coupled indicators with a 1/4 npt connection.
SPECIFICATIONS:
Accuracy:

± 6% full Scale; Rangeability: 10 to 100% full scale

Scales:

1-1/2 inch long, marked 10-100%;

Materials:

Stainless Steel Type 316 Ti (UNS S31635); Valve Packing: Teflon; Valve O-Ring: Viton

Temperature Limits:

300°F

Pressure Limits:

1450 psig
Standard Models:
Vertical Connections- No Valve: 10A3225AA10A1A2
Horizontal Connections - Valve on Inlet: 10A3220AA20A1A2
Horizontal Connections - Valve on Outlet: 10A3220AA30A1A2
MAXIMUM FLOW
WATER - GPH
AIR SCFH
1.6
6.4
2.6
10.6
4.2
17.0
6.6
26.5
10.6
42.4
16.0
63.5
26.0
106