WARNING: Cancer and Reproductive Harm - www.P65Warnings.ca.gov
ABB's Vortex and Swirl Flow Meters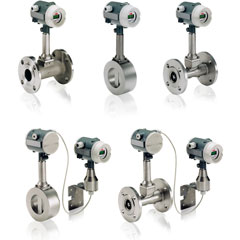 The robust design of ABB's vortex and swirl flowmeters provide high performance and reliability in liquids, gases and steam measurements.

Equiped with digital signal processing (DSP) and advanced filtering techniques, these innovative flowmeters from ABB allow improved flow signal detection and provide measurement immunity from the effects of hydraulic noise and pipeline vibration. Ultimately, these flowmeters provide precise measurement without sacrificing low flow capability.

ABB's vortex & swirl flowmeters offer best-in-class flow measurement with the shortest upstream and downstream piping requirements.


Quick and easy transmitter exchange as all calibration data and parameter values are stored in a FRAM in the transmitter housing
Very low installation cost due to short straight sections on both the inlet and outlet sections
Direct mass flow output through compensation due to integrated temperature measurement
Unique swirl design eliminates low flow cut-off issues as well as the need for field installed reducers
Integral temperature sensor enables temperature compensated mass flow for saturated steam.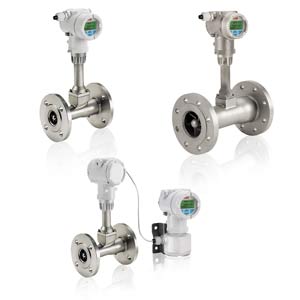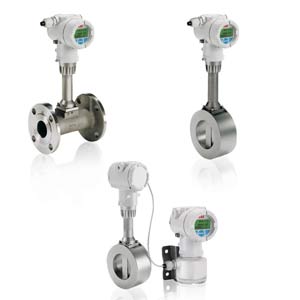 Model FV4000
Vortex Meters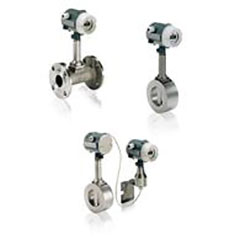 Model FS4000
Swirl Flow Meters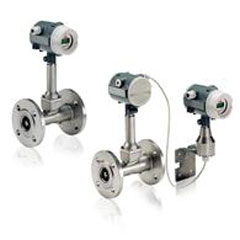 Models
FV4000-VT4X1 Vortex Flow Meter with Flanges and Integral Display
FV4000-VR4X1 Vortex Flow Meter with Flanges and Remote Display
FV4000-VT4X3 Vortex Flow Meter Wafer Type and Integral Display
FV4000-VR4X3 Vortex Flow Meter Wafer Type and Remote Display
FV4000-ST4X1 Swirl Flow Meter with Flanges and Integral Display
FV4000-SR4X1 Swirl Flow Meter with Flanges and Remote Display