WARNING: Cancer and Reproductive Harm - www.P65Warnings.ca.gov
ABB FPD500 Compact Orifice Flow Meter
The ABB FPD500 Compact Orifice Flow Meter (OriMaster)is a stand-alone orifice-based flow meter with a difference — its advanced design greatly simplifies installation and commissioning.
The FDP500 incorporates the following features:
A wafer-bodied orifice carrier assembly with integral square-edged, concentric plate and corner tapping points
Integral 3-valve manifold (optional 5-valve manifold available)
Integral direct connections between the carrier tappings and manifold
DP transmitter, factory-mounted onto the manifold and pre-configured for the application
Fully leak-tested and configured
Integrated DP flow measurement system, pressure tested as an assembly

- combines primary element with DP transmitter in a single flow meter assembly

Mass flow version with optional, integral temperature element

- integral multivariable transmitter and RTD for direct reading of mass (liquids and steam) and corrected volume (gas) flow rates in a single unit

Plugged impulse line detection

- detects partial or complete blockage of DP connections

- provides warnings visually and via outputs

Integral impulse connections

- no impulse piping installation required
- provides repeatable DP connection across installation locations
Benefits
Reduced installation costs

- only one piece to install
- eliminates need to supply and connect separate manifold, transmitter and impulse piping

Easy to specify and maintain

- single ordering code covers complete flow meter
- only two orifice ratios for simple specification process
- optional replaceable orifice plates offer easy, economic maintenance and flexibility for changing process conditions

New 'through-the-glass' (TTG) keypad technology

- enables quick and easy local configuration without the need to open the cover — even in hazardous areas

Factory acceptance report

- supplied with report detailing results of critical inspection checks, plus certification data.
OriMaster avoids many of the difficulties involved in the sizing, selection, procurement, installation and commissioning of conventional orifice plate installations.
Summary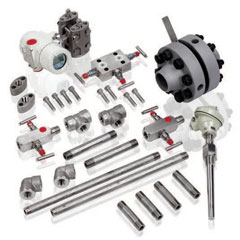 With all the major components in one assembly, OriMaster eliminates the problems of sourcing multiple components. Provides large savings in cost and time due to the simplicity of design and installation.The Integral transmitter and manifold with compact tapping connections eliminates the need to run and connect impulse piping and offers:
- guaranteed accuracy of positioning and installation of the tapping points
- reduced possibility of impulse line blockage

The assembly is pressure-tested in the factory, giving the user confidence that the connections between the tapping points and the transmitter are completely free of leaks
Factory configuration of the meter saves the user time during commissioning and ensures that the flowmeter output span truly matches that of the application flowrate
Choice of two discrete Beta ratio values, together with the free sizing, selection and coding software, simplifies the sizing and selection process
Optional design with replaceable orifice plates enables low-cost repair or, when process conditions change, re-ranging of the meter
Element centralizing system ensures every meter is concentric with its pipe, thus avoiding significant additional metering errors
New 'through-the-glass' (TTG) keypad technology enables meter configuration without terminals and with no need to remove the transmitter covers