Robertshaw Model 5318B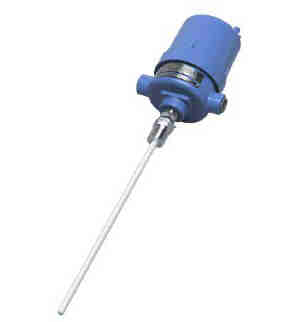 The Robertshaw Model 5318B Level-Tek is a RF capacitance point (On/Off) level switch, used to detect level changes in liquids and solids. Bare Probes can be used for non-conductive liquids while the TFE coated probes can be used for conductive liquids and powders. The Model 5318B is capable of detecting the level in a wide variety of products, including liquids, powders, granular, lump and flake materials in tanks, sumps, silos and in cooling tower applications.

All the models have a DPDT relay, fixed & adjustable differential and adjustable time delays and are in explosion proof, weather tight enclosures. Capacitance Probes are ordered separately depending on the application. In most cases the existing probes will work with the 5318B.
Request Quote
The most common model configurations have a ½ NPT Probe Hub and are painted in Nitro Blue.
Common Model Configurations
MODEL 5318B-B1-A Supply Voltage: 85 to 265 VAC
MODEL 5318B-A1-A Supply Voltage: 18 to 36 VDC
MODEL 5318B-C1-A Supply Voltage: 9 to 18 VDC
The 5318B is also available with Grey Epoxy paint and ¾ NPT Probe Hub.
FEATURES AND BENEFITS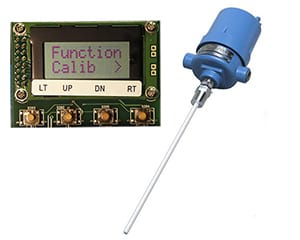 Versatile

- Suits Many Applications- Enclosure meets explosion-proof and weather-tight requirements. Choice of supply voltages. Adjustable time delays are standard.
All Solid-State Construction

- Use of digital solid-state circuits insures long-term stability, reliability, and reduced maintenance.
Simplified Installation

- Self-contained unit may be oriented in any position. Mounts directly on installed Robertshaw Probe Assembly, connected to probe element by rugged, and convenient, disconnect pin.
Field Selectable Operational Modes

- High or low fail-safe operation established by means of mode switches.
Ease of Calibration and Adjustment

- Built-in solid-state light aids in calibration (no external meter required).
Convenient Design for Wiring and Maintenance

- Plug-in chassis assembly provides easy access to wiring and terminal board. Heavy-duty relay.
Remote Mount Option

- (15 feet maximum from probe.)
Safety Approvals

- For hazardous locations
ORDERING INFORMATION AND MODEL CODING
STANDARD MODEL *5318B-B1-A
BASE MODEL: 5318B
SUPPLY VOLTAGE:

[A] - 18 to 36 VDC
[B] - 85 to 265 VAC, 47 to 440 Hz, 50 to 60 Hz Nominal
[C] - 9 to 18 VDC
OPTIONS:

[1] - No Options
[3] - Special, Custom Calibration (Consult Factory)
[4] - Unit furnished w/o display or push buttons. Includes Calibration Software CD & Cable
[5] - Unit Board furnished w/o display or push buttons. No Calibration Software CD or Cable
ENCLOSURE:

[A] - ½" NPT Probe Hub, Nitro Blue
[B] - ¾" NPT Probe Hub, Nitro Blue
[D] - ½" NPT Probe Hub, Gray Epoxy
[E] - ¾" NPT Probe Hub, Gray Epoxy
REMOTE MOUNT OPTIONS
For remote mount of 5318B (maximum 15 feet) select cable/probe conduit outlet box assemblies below. Coaxial cables are used with standard units/probes
COAXIAL CABLE ASSEMBLIES:

[032KX050-XX] - Coaxial Cable, Teflon Insulated, with explosion proof/NEMA 4 probe conduit outlet box. Maximum temperature 350º F
[032KX080-XX] -Coaxial Cable, Teflon Insulated, with explosion proof/NEMA 4X (Gray Epoxy painted) probe conduit outlet box.
REMOTE CALIBRATION

[909GM201] - Remote Calibration Kit – includes Software CD and Cable
NOTES
The remote mount cable is not UL/c-UL certified. Use of the remote mount cable with the 5318B voids the UL/c-UL certification/explosion proof rating of the instrument.
Maximum length on any cable is 15 feet.
Cable/probe conduit outlet box must be used with remote mounted 5318B Level-Tek
Length pricing per foot or any portion thereof.