Robershaw Model 318A Capacitance Level Switch

Effective January 1, 2017, the name of the legal entity, Invensys Systems, Inc., dba Robertshaw Industrial Products, will change to Schneider Electric Systems USA, Inc. This is part of the continued integration of Invensys into Schneider Electric.
See Notice
This model is no longer available, the recommended replacement is the 5318B
The can be used to measure the level of liquids and solids in a variety of tanks, bins, totes etc. These products are based on measuring the capacitance between a probe and the wall of the vessel. These are also classed as RF ( Radio Frequency) Admittance, RF Impedance level measuring devices. Robertshaw provide Control Units and Probes for Single Point, Multipoint ( two points on a single probe ) and Continuous ( 4-20ma current output). The continuous level measurement can be used with 4-20ma alarms to generate multiple alarms from a single probe. Units are avalable with general purpose enclosures and explosion proof enclosures for hazardous areas.
These units all require a capacitance probe to operate. See Probes
Level-Tek Model 318A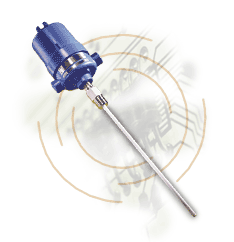 The Robertshaw Model 318A Level-Tek is an on/off all solid state RF control instrument for detecting predetermined product level changes in tanks, sumps, silos and other vessels or containers. The Model 318A is capable of detecting a variety of products, including liquids, powders, granular, lump and flake materials. The product can be conductive or non-conductive.

The Model 318A is self-contained and uses integrated circuits to ensure long term stability, reliability and reduced maintenance. Control signals are provided through the contacts of a DPDT relay. The instrument features adjustable time-delay which is selective for time-delay on "Pull-In," "Drop-Out" or both. The unit is available with any of three different supply voltages.
FEATURES AND BENEFITS
Versatile - meets explosion-proof and dust-tight requirements.
All Solid State RF Control - Use of integrated circuits ensures long-term stability and reliability.
Short-Stop Option - Ignores product build-up/coating on sensor.
Remote Mount Option - (maximum 15 feet).
Optional DC or AC Supply Voltages.
Field Selectable Operational Modes - High or low fail safe.
Ease of Calibration - Built-in solid-state (LED) aids in calibration.
Simplified Installation - Self-contained unit mounts directly on the sensing probe.
Plug-In Chassis Assembly.
Heavy Duty Control Relay.
CSA Certified (120 VAC, Non-Shortstop version only).