WARNING: Cancer and Reproductive Harm - www.P65Warnings.ca.gov
ABB I/P (Current to Pneumatic) Converters (TEIP 11)
NARROW YOUR SEARCH
These were previously made under the Sensycon Brand name and have a general product name of TEIP11
ABB's line of Sensycon I/P converters are compact, immune to shock/vibration, and come in Explosion Proof, NEMA 4X and DIN rail configurations. ATEX approved units are available by special order.
Models are available with VOLUME BOOSTERS, Series V18311H as known as TEIP11-PS which provide a higher flow rate for direct controls of valves etc. but have a lower supply pressure Those I/Ps without booster Series V18312H, also known as TEIP are meant to be attached to positioners, volume boosters etc. and have a higher supply pressure rating.
In the past these I/P were branded VDO and Sensycon. Use the Model Index and Cross Reference to cross over the older model numbers with the new ones.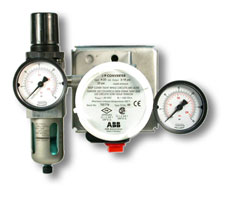 Up until recently the different models were identified by "Type Numbers", the type number along with a general description can be found here
"Type" Numbers
.
The "Type Numbers" are not enough to identify a unique model and we need additional information to get the correct model.
The table below shows most of the common US models. We can also get different options for inputs, outputs, and agency approvals. Outside of the USA the most common agency approvals are based on ATEX.
Please note that if a model has an approval for Intrinsic Safety this means that it can be used in rated area with special barriers which limits the amount of energy sent to the I/P. Please note that for the US market the standard for hazardous areas is
EXPLOSION PROOF
.
abb-current-to-pneumatic-usa-models.html
Please call, fax or email for resale, OEM, and quantity pricing.
Note ABB has changed their Model Numbers - old numbers are shown in ( )
Click Picture for Close Up
Type
Area Class
Case
Supply Press.
Input
Output
Part Number
Delivery
UNITS WITH VOLUME BOOSTER TO DIRECTLY CONNECT TO ACTUATORS


22/06-69
22/0669
220669
EXP FM CSA
Aluminum Case
1/4" NPT
20 psig
4-20 ma
3-15 psi
V18311H-782210100
(5220669 102770)
Buy Online
REQUEST QUOTE

Datasheet
1-18 psi
V18311H-782010100511
(5220669 102772)
Call
3-27psi
V18311H-782010100512
(5220669 102771)
Call
6-30 psi
V18311H-782010100509
(5220669 102774)
Call
22/06-68
22/0668
220668
EXP FM CSA
SS Case
1/4" NPT
20 psig
4-20 ma
3-15 psi
V18311H-792210100
(5220668 102780)
Call
REQUEST QUOTE

Datasheet
1-18 psi
V18311H-792010100511
(5220668 102782)
Call
3-27psi
V18311H-792010100512
(5220668 102781)
Call
6-30 psi
V18311H-792010100509
(5220668 102784)
Call
NEMA 4X
Aluminum Case
1/4" NPT
20 psig

4-20 ma
3-15 psi
V18311H-182210100
(18311-0-182210170)
Stock
REQUEST QUOTE

Datasheet
22/06-65
22/0665
220665
General Purpose Area
DIN
1/8" NPT
20 psig


NOT FOR ABB AV2 OR MOORE 760E POSITIONERS

4-20 ma
3-15 psi
V18311H-612210100
(5220665 102730)
Buy Online
REQUEST QUOTE

Datasheet
1-18 psi
V18311H-612010100511
(5220665 102732)
Call
3-27psi
V18311H-612010100512
(5220665 102731)
Call
6-30 psi
V18311H-612010100509
(5220665 102734)
Call
UNITS WITHOUT VOLUME BOOSTER TO CONNECT TO PNEUMATIC POSITIONERS, ETC.


22/06-67
22/0667
220667
EXP FM CSA
Aluminum Case
1/4" NPT
30 to 145 psig


4-20 ma
3-15 psi
Set for 43.5 psi
V18312H-622211200
(5220667 102778)
Stock
REQUEST QUOTE

Datasheet
22/06-66
22/0666
220666
EXP FM CSA
SS Case 1/4" NPT
30 to 145 psig

4-20 ma
3-15 psi
Set for 72.5 psi
V18312H-642211400
(5220666 102788)
Call
REQUEST QUOTE

Datasheet
NEMA 4X
Aluminum Case
1/4" NPT
30 to 145 psig
4-20 ma
3-15 psi
Set for 43.5 psi
V18312H-122211200
(18312-0-122211270)
Stock
REQUEST QUOTE

Datasheet
SPECIAL UNITS
22/06-65
Replacement I/P
for AV2
150 psi max
4-20 ma
3-15 psi
258651A1
Stock
Rush - if available
Details

Instruction Sheet
22/06-65
for installation inside of Moore positioners

4-20 ma
3-15 psi
7958070
Stock
Rush - if available
details

Instruction Sheet
Kit for Sensycon I/P for Moore 760E Positioner
4-20 ma
3-15 psi
15900-378
2-3 weeks
Instruction Sheet
Please note that we are no longer stocking these kits.
Please contact AT Controls
HVAC
General Purpose Area
DIN rail mounting
1/8" NPT
20 psig

4-20 ma
3-15 psi
5220716-101526
Order P/N 7958057

Limited
Stock
Datasheet
Note: this unit is meant for non critical application such as building control; there is no SPAN adjustment
ACCESSORIES

SS PIPE BRACKET:
with an "L" shaped plate for mounting the I/P and a 2" pipe mount and "U" bolt Fits EXP and NEMA 4X versions.

319345
(18381-0319345)
(5229900 272484)
Stock
REQUEST QUOTE