ABB Type 22/06-65 V18311H-612210100 I/P field mount with booster for Hazardous Areas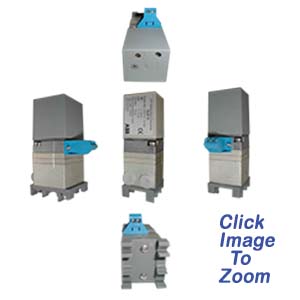 This current to pneumatic converter (I/P) has an internal volume booster which makes it suitable for driving valves directly.
It uses a supply pressure of 20 psi, and is meant to be field mounted and has agency certifications for FM, CSA and ATEX. The images shown here are just one version (type) of the Type 22/06-65 series I/P, originally made by Sensycon which is now part of ABB. Please see the specifications for additional US and ATEX models

Click on images to see larger view.
V18311H-612210100-Specifications
Internal Volume Booster
Max. Supply Pressure: 20 psig
Air Connections: 1/8" NPT
Grey DIN Mounting Bracket
6 - FM/CSA "intrinsically safe" Note that IS bariers are required if this is going to be used in a Hazardous Area. These are usually installed in a general purpoae are such as a controls room.
1 - Control room housing IP 20 for rail mounting. This has a plastic grey DIN rail mounting bracket on the bottom, the unit also a 1/8 inch NPT connections and zero and span adjustment
2 - Input Signal: 4-20 ma
2 - Output Signal 3-15 psi
10 - Action: Direct
1 - Temp: -40 to +85 Deg C
0 - Color: Standard
0 - Version: ABB Sensycon