Robershaw Capacitance Level products
Robertshaw Model 5000A level transmitter

Effective January 1, 2017, the name of the legal entity, Invensys Systems, Inc., dba Robertshaw Industrial Products, will change to Schneider Electric Systems USA, Inc. This is part of the continued integration of Invensys into Schneider Electric.
See Notice
The can be used to measure the level of liquids and solids in a variety of tanks, bins, totes etc. These products are based on measuring the capacitance between a probe and the wall of the vessel. These are also classed as RF ( Radio Frequency) Admittance, RF Impedance level measuring devices. Robertshaw provide Control Units and Probes for Single Point, Multipoint ( two points on a single probe ) and Continuous ( 4-20ma current output). The continuous level measurement can be used with 4-20ma alarms to generate multiple alarms from a single probe. Units are avalable with general purpose enclosures and explosion proof enclosures for hazardous areas

These units all require a capacitance probe to operate. See Probes
Model 5000A Microprocessor µP "Level Lance"
This unit is no longer in production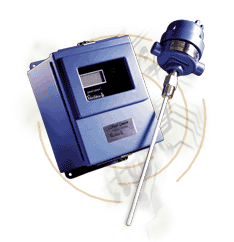 The Robertshaw Model 5000A Level-Lance is a microprocessor based indicator/controller employing a pulse frequency modulation (PFM) measuring system. Changing level conditions at the sensing probe cause a change in the pulse frequency output of the miniature transmitter that is normally mounted directly on the sensing probe. This pulse frequency is detected by the remote mounted indicator/controller and converted to a signal that is proportional to the level being measured. This resultant level signal can be:

a. Displayed on the instrument door by means of 4 digit LCD display reading in percent or engineering units field selectable.

b. Retransmitted via a 4-20 mADC output signal. This optional signal is campatible with all common receivers used for recording, indication, or control purposes.

c. Used to communicate with a larger computer via 20 mA loop. The Model 5000A continuously sends product level information to the larger computer.
Auto-Set - Automatic calibration
Calibrate without completely emptying and filling vessel.
Field Selectable Control Mode Programs.
Duplex Alarm Relays.
Digital Display - Percent or engineering units.
Field Reversible Output.
Uses Standard Two-Wire Cable - Up 1 mile between probe system and the indicating controller.
NEMA-4, 4X, or Explosion-Proof Enclosures.
Self-Diagnostic - Indicates out of calibration, sensor failure, etc.
Calibration Retained via Battery Back-Up on Loss of Power.
Linearization Optional for Level to Volume/Flow Conversion.
UL/C-UL Listed Transmitter

WARNING: Cancer and Reproductive Harm - www.P65Warnings.ca.gov