Robershaw Capacitance Level products
Model 314B, dual point capacitance level switch

Effective January 1, 2017, the name of the legal entity, Invensys Systems, Inc., dba Robertshaw Industrial Products, will change to Schneider Electric Systems USA, Inc. This is part of the continued integration of Invensys into Schneider Electric.
See Notice
The can be used to measure the level of liquids and solids in a variety of tanks, bins, totes etc. These products are based on measuring the capacitance between a probe and the wall of the vessel. These are also classed as RF ( Radio Frequency) Admittance, RF Impedance level measuring devices. Robertshaw provide Control Units and Probes for Single Point, Multipoint ( two points on a single probe ) and Continuous ( 4-20ma current output). The continuous level measurement can be used with 4-20ma alarms to generate multiple alarms from a single probe. Units are avalable with general purpose enclosures and explosion proof enclosures for hazardous areas.
These units all require a capacitance probe to operate. See Probes
Duplex Level-Tek Model 314B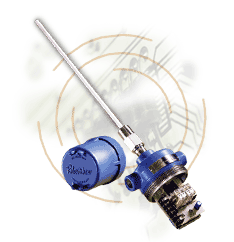 The Robertshaw Model 314B Level-Tek is an all solid state RF control instrument providing ON/OFF control with two independently adjustable setpoints each with its own output control relay. For use with a vertically mounted probe assembly, the independent and non-interacting control points may be adjusted throughout the length of the probe up to the limits of the capacitance range.

This true "duplex" or dual Level-Tek provides application versatility with cost and space savings not previously obtainable. Available by order in fail-safe control modes for "High" and "Low", "High" and "High-High", or "Low" and "Low-Low". The operational mode may be changed in the field by soldered jumper connections on the chassis assembly.

The Model 314B has two independent set-points, each with adjustable differential. The Set-point and Differential adjustments are by means of nominal 20 turn sealed potentiometers with light-emitting diodes on the chassis assembly to indicate relay operation as an aid in calibration.

The aluminum die-cast enclosure for the Model 314B is suitable for use in hazardous areas classified Class I Division 1, Groups C & D as well as NEMA 4 watertight.
FEATURES AND BENEFITS
Patented Anti-Coating Principle
Minimizes error due to material build-up on probe.
Two independent set-points and control relays
Space and cost savings.
Wide Range Adjustability
Operates over larger level spans.
Adjustable Differential on each set-point
Greater versatility of applications.
Single unit system mounts directly on the probe
Lower purchasing and installation costs.
Field selectable fail-safe modes of operation
Simple soldered jumper links.

WARNING: Cancer and Reproductive Harm - www.P65Warnings.ca.gov