ROBERTSHAW VIBRATION SWITCHES

Effective January 1, 2017, the name of the legal entity, Invensys Systems, Inc., dba Robertshaw Industrial Products, will change to Schneider Electric Systems USA, Inc. This is part of the continued integration of Invensys into Schneider Electric. See Notice
We are their authorized representative and distributor for the metro NY area.


Price Matching: We will match or beat any valid price offer. Product must be new, traceable to Robertshaw factory, with a full 1 year warranty and in original packaging with operating instructions
Application Assistance: We have over 25 years of helping customers select and use Robertshaw Vibration Products.
Delivery: We stock most of the common models for quick delivery
The Model 365A Vibraswitch is an acceleration sensitive instrument that measures the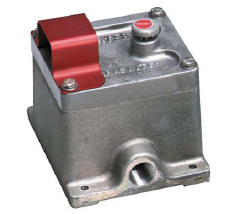 total peak vibratory shock (destruction forces) present at the point of measurement. The instrument's explosion proof housing meets Class I, Division 1, Groups C and D, and Class II, Division 1, Groups E, F and G hazardous area classifications. It is FM approved and CSA certified. The instrument provides electrical switch contact closures for on-off control of alarms and shut-down of machines. Both SPDT and DPDT contact arrangements are available.
br The set-point is provided with a dial calibrated in 0.1 G divisions. The instrument has a range of 0 to 4.5 G in a frequency range of 0 to 300 Hz. The set-point adjustment resolution is 1 G per turn. The Vibraswitch can be supplied with an electrical reset coil for remote resetting; it is available for voltages of 24, 48, 120VDC or 120 VAC.

A The Model 365A Vibraswitch is an acceleration sensitive instrument that measures the total peak vibratory shock (destruction forces) present at the point of measurement. The instrument's explosion proof housing meets Class I, Division 1, Groups C and D, and Class II, Division 1, Groups E, F and G hazardous area classifications. It is FM approved and CSA certified. The instrument provides electrical switch contact closures for on-off control of alarms and shut-down of machines. Both SPDT and DPDT contact arrangements are available.

The set-point is provided with a dial calibrated in 0.1 G divisions. The instrument has a range of 0 to 4.5 G in a frequency range of 0 to 300 Hz. The set-point adjustment resolution is 1 G per turn. The Vibraswitch can be supplied with an electrical reset coil for remote resetting; it is available for voltages of 24, 48, 120VDC or 120 VAC. A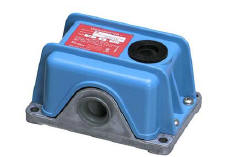 The Model 366 Vibraswitch is an acceleration sensitive instrument that measures the total peak vibratory shock (destruction forces) present at the point of measurement. The instrument is housed in a general purpose, weather-resistant enclosure meeting NEMA type 4 specs. The cover is ABS high impact thermoplastic material and the base is aluminum 360 (Cu Free). The Model 366 is CSA certified. It provides electrical switch contact closures for on-off control of alarm and / or shut-down of machines. It is available with SPDT or DPDT contact arrangements.

The set-point is provided with a dial calibrated in 0.1 G divisions. The instrument has a range of 0 to 4.5 G in a frequency range of 0 to 300 Hz. The set-point adjustment resolution is 1 G per turn. The Vibraswitch can be supplied with an electrical reset coil for remote resetting; it is available for voltages of 24, 48, 120 VDC or 120VAC. A manual reset button is supplied as standard equipment on all units.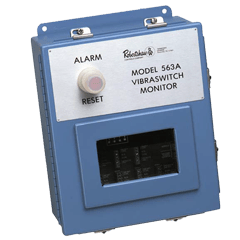 The Robertshaw Model 563A Vibraswitch Electronic Vibration Monitor is a microprocessor based supervisory control system designed for use with Robertshaw Model 365 or 366 Vibraswitch Vibration Switch. It may be used with one to eight Vibraswitches and has been programmed to provide a means of differentiating between valid excessive vibration and excessive vibration resulting from temporary external disturbances.

Many machines, during their normal operation, will suffer occasional short-duration transient shocks, which are external to the monitored machine. Examples of these disturbances are: Closing of pipeline check valves on pumping applications; Start-up of additional pumps on a line; nearby machinery operating - such as hydraulic presses, etc.. These disturbances may cause a Vibraswitch to "trip out" if the vibratory level is in excess of its set-point. The Model 563A provides field settable Monitor Time Delay circuitry that eliminates equipment shutdown because of these transients and ensures that only a continuous vibration level which exceeds the set-point of the Vibraswitch will initiate an alarm and/or shutdown. This Monitor Time Delay is adjustable, using digital rotary switches, over a range of 0 to 99 seconds.

Nearly all rotating machinery, during its "start-up" operation, will go through an excessive vibration point which is inherent to the machine. This vibration level sometimes is higher than the alarm/shutdown level desired for safe protection. The Model 563A contains circuitry which provides a Starting Time Delay to disable the Vibraswitches for a period of time to allow the machine to reach its normal operating speed or condition. After this delay period, the Model 563A activates the Vibraswitches to provide the necessary vibration protection. The Start Time Delay is adjustable over a range of 0 to 999 seconds by means of digital rotary switches.
Eight LED indicators, viewable through the window on the instrument door, are provided for visual indication to determine which Vibraswitch detected the excessive vibration and triggered the alarm and/or shutdown.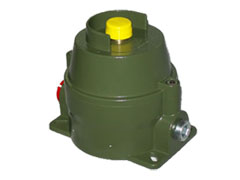 The Model EURO 366 Vibration Switch is primarily intended for indoor and outdoor hazardous and nonhazardous areas in those countries requiring ATEX and CE certifications. The EURO 366 employs the same time proven switch design found in Robertshaw's family of vibration switches.

The Model EURO 366 Vibration Switch is a vibration sensitive device that protects rotating and reciprocating machinery from extensive damage resulting from mechanical malfunction. When the vibration level of a Vibration Switch protected machine exceeds normal by a preselected amount, the normally open contacts of an internal switch close and the normally closed contacts open. This can be used to actuate either an audible warning system or a shutdown circuit before costly damage occurs Failing bearings, broken blades and similar malfunctions causes increased imbalance or high frequency vibration detectable with the Vibration Switch. It is designed formaintenance-free service in permanent installations.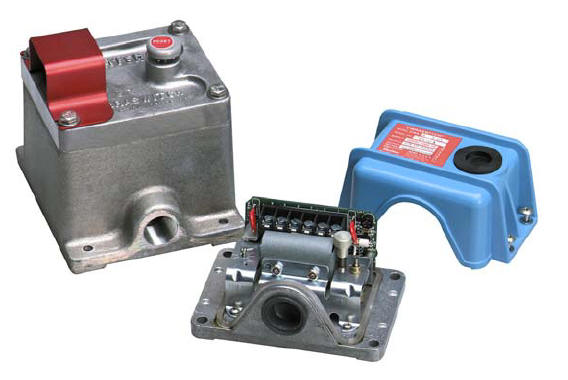 These Robertshaw Vibraswitch Malfunction Detectors are acceleration sensitive vibration instruments with electronic circuitry to provide maximum protection to rotating and reciprocating machinery due to damages resulting from mechanical malfunctions. Although identical in outside appearance and dimensionally the same as the existing Models 365 and 366, these instruments include "built-in" electronic circuitry for start and/or monitoring time delay functions for the prevention of false shutdowns resulting from transient vibrations. All models include provisions for remote reset.

"Start Delay" is often required on machines that start automatically and exhibit excessive vibration for short periods of time only during starting. Proper set point adjustment on the Vibraswitch for adequate protection during normal running conditions may cause the Vibraswitch to "trip" as the instrument senses these high starting transient vibrations without the use of "Start Delay." Examples of such machines are refrigeration compressors and high-speed turbines.

"Monitor Delay" is required on machines that exhibit excessive vibration of a transient nature which occurs during normal operation. If a Vibraswitch without monitor delay has it's set point sufficiently high so as not to trip-out under the transient vibration levels; inadequate protection would result during the normal running conditions. Examples of this type of machine include liquid pumps that experience momentary cavitations resulting in excessive vibration.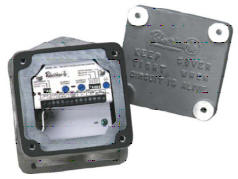 The Model 566 can provide 4-20ma output, alarm setpoints, measure acceleration or velocity and is an explosion proof enclosure
The Robertshaw Model 566 Vibration Monitor is a solid state instrument that encompasses a variety of functions all in one unit.

Vibration can be monitored in either velocity or acceleration. The standard ranges are 0 to 1.5 inches/second or 0 to 3 inches/second when sensing velocity and 0 to 5 g's or 0 to 10 g's when sensing acceleration. A 4-20 mA DC output is provided to drive a 750 ohm maximum load.

The Model 566 includes two solid state Triacs (2 amp @ 120/240 VAC) which can be operated in a N.O. or N.C. configuration. Alarms are capable of being latched or non latched (ON-OFF). Alarm # 1 has a monitor time delay adjustable from 0.5 to 15 seconds. LED setpoint indicators are provided to indicate the alarm condition.

The Model 566 vibration instrument and optional remote mounted sensor are housed in a weatherproof and explosion proof enclosure.

Note that on the remote sensor unit the connection from the Model 566 to the remote sensor need only be an ungrounded pair of twisted wire.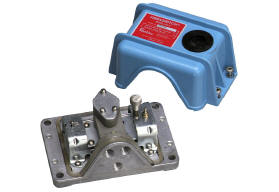 The Robertshaw Model 368 Vibraswitch is a pneumatically powered detector for use on machines where electrical power is not available. This instrument is particularly well suited to installation in hazardous (explosive) areas (even in extreme hazard such as hydrogen atmospheres) since only compressed air is required for its alarm and/or control operation. It does not require explosion-proof housings. The instrument is also well suited for applications at pipeline compressor stations and skid-mounted compressors since it will operate on either natural gas or compressed air.