WARNING: Cancer and Reproductive Harm - www.P65Warnings.ca.gov
Valcor Model SV12C56HC4-5 Floating Seal Soleniod Valve
SV-12 (Brass Body) are direct acting Floating Seal solenoid valves with venturi-like flow paths and in-line porting.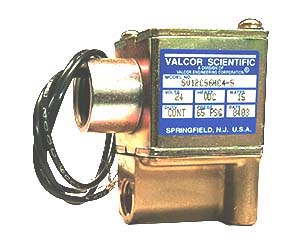 The SV-12 Floating Seal valve design allows high flow of just about any non-corrosive fluid, light particulate liquid or gas. 1 PSIG minimum pressure differential in direction of flow is required for drip tight sealing. No minimum pressure is required for operation. All valves employ Valcor's Floating Seal disc, which wipes the valve seat clean of contaminants with each up-and-down plunger movement, thereby eliminating clogging. Seal discs are made of Teflon for greatest fluid compatibility. DC valves employ Viton 0-Rings because of higher coil rating. All wetted parts, except bodies, seals and 0-Rings are made of stainless steel. Venturi-like flow paths permit rapid fluid movement through the valve seat with virtually no additional pressure drop. We recommend these valves be mounted with solenoids in a vertical, upright position.
These valves are especially good for water with particulates because of the self wiping seal.
Pricing
List Price = $320.00 each, Current deliveries are 16 weeks
Special: We have a limited quantity (52) of the SV12C56HC4-5 in stock from a previous large order that was not completed.
Price = $240.00 each (Mfg. Date 04/08) These are in new condition with a one year warranty (we will replace or refund)
Features & Specifications
Straight through flow path
Cv = 0.95
2-way, brass body
C - Coil Housing: Conduit
56H - Coil Voltage: 24 VDC
C - Valve Type: Normally Closed
4 - Port Size: 1/4" NPT
5 - Orifice Size: 3/16"