WARNING: Cancer and Reproductive Harm - www.P65Warnings.ca.gov
VC-230A, VC-231A Multi-Spring Diaphragm Actuators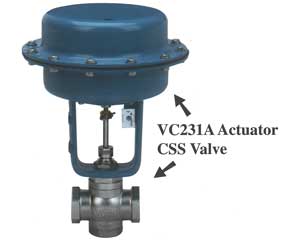 The VC-230A direct-acting model and the VC-231A reverse-acting model are spring opposed diaphragm actuators. They are designed to provide dependable On-Off or throttling operation of control valves. They may be actuated by pneumatic signals from any suitable temperature or pressure controller.

Model VC-230A - Air pressure from the controller is applied to the top of the diaphragm. As this pressure increases within the range of the load spring, the actuator stem moves down.

Model VC-231A - Air pressure from the controller is applied underneath the diaphragm. Increasing pressure causes the actuator stem to move upward.
Valve Body Options
See the options for the valve bodies

FEATURES
Molded Buna-N diaphragms, nylon reinforced.
Steel Diaphragm Cases.
Multiple Steel Springs
Sturdy cast iron lower frame.
Quick disconnect valve stem construction.
Valve position indicator.
Specifications
Diaphragm Area:

29 sq. inches (0.02m²) nominal

Service Connection:

1/4" - 18 NPT

Pattern:

Enclosed Spring Type.

Spring Ranges:

3-15 psi (0.2-1.0 bar) standard. Other ranges available.

Diaphragm Pressure:

100 psi (6.9 bar) max. test
40 psi (4.8 bar) max. working

Maximum Stroke:

(25.4 mm)

Ambient Temperature:

200°F (93°C)

Materials:

Diaphragm Housing - Steel, painted with polyurethane enamel.
Diaphragm - Buna-N, Nylon reinforced.
Diaphragm Plate - Aluminum casting
Springs - Tempered MB wire, zinc plated
Actuator Stem - Stainless Steel
Actuator Stem Guide - Bronze, Self-lubricating
Frame - Cast iron.
Stem Connector - Stainless
Stroke Indicator - Aluminum