WARNING: Cancer and Reproductive Harm - www.P65Warnings.ca.gov
VC-210 Series (Stainless Steel)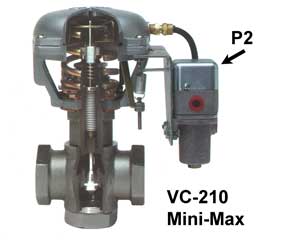 The VC-230A direct-acting model and the VC-231A reverse-acting model are spring opposed diaphragm actuators. They are designed to provide dependable On-Off or throttling operation of control valves. They may be actuated by pneumatic signals from any suitable temperature or pressure controller.


Model VC-210 Mini-Max Control Valves are built with stainless steel investment castings and especially designed for the control of water, steam, gas, vacuum etc. Valves are single seated, bellows sealed to prevent stem leakage, and may be selected to have the valve action, seating materials and flow characteristics needed for most control applications.

The pneumatic actuator consists of a molded 10 sq. in. Buna-N 2-ply Dacron reinforced diaphragm enclosed in a die-cast aluminum housing and frame. The readily accessible spring adjusting nut provides easy field adjustment of the starting point within the selected spring range. Synthane gaskets located between the valve bonnet and the actuator frame reduce heat transfer to the diaphragm.
OUTSTANDING FEATURES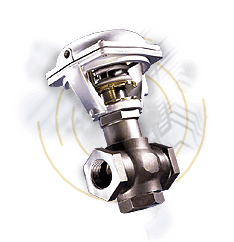 Full Ported or Low Flow Designs
Direct and Reverse-Acting Valve Styles 1/2" 3/4" 1"
Molded Diaphragms - Reinforced
"Packless" Bellows Stem Seal
Two and Three Way Valves
Stainless Steel Investment Castings
Specifications
ACTUATOR ASSEMBLY
Nominal Size:

10 sq. in.

Action:

Direct acting Increasing air pressure moves stem downward.


Nominal Travel:

3/8 in. (9.6 mm)

Maximum Air Pressure:

30 psi (2.0 bar)

Maximum Ambient Temperature:

180°F (82°C)

Air Connection:

1/8" NPT, female

Materials of Construction:

Diaphragm: Molded Buna-N 2 ply reinforced
Housing: Frame Die cast aluminum, irridite finished for corrosion resistance, painted bronzeless gold.
Spring: Zinc plated alloy steel
VALVE ASSEMBLY
Action:

Direct (Provides air-to-close action with actuator)
Reverse (Provides air-to-open action with actuator)

Valve Body Assembly Ratings:

200 psig for stainless steel bodies at 350°F (13.8 bar at 177°C)

End Connections:

Female NPT inlet and outlet

Seat Ring:

316 Stainless Steel, replacement in 2-way and 3-way bodies

Materials of Construction:

Body 316 Stainless Steel, for 2-way valves and 3-way valves
Trim 316 Stainless Steel in 2-way valves and 3-way valves
Primary Packing 316 Stainless Stee lbellows in Stainless bodies.