Cooling Water Regulators 908-A Series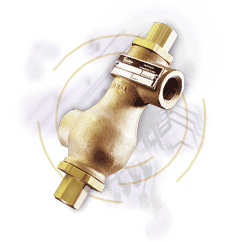 These regulators are simple, self-contained instruments that control cooling applications by regulating the flow of cooling water in accordance with discharge water temperature. They are applicable to plastic molds, die casting molds, small condensers, air compressors, etc., where the volume of cooling water required is within the capacity limits of the regulators. The 908-A design saves water.
OPERATION
When the discharged cooling water reaches a predetermined temperature at the thermostat, the thermostat moves to gradually open or close the valve port to allow more or less water to flow through the equipment being cooled. An adjustable bypass for constant flow is included in the design.
SETPOINT TEMPERATURE RANGE
The 908-A can be set to control at any point within the adjustable setpoint range.
Available from stock are:
3/4" 50-115° F. and 100-160° F.
1" 50-115° F. and 100-160° F.
Other ranges available on quantity orders.
MATERIALS
All parts are made of brass or bronze except the bellows which is made of phosphor bronze. Packless construction. Eliminates the need for maintenance. Endonnections are female threaded.
PRESSURE LIMIT
These regulators are suitable for maximum inlet pressure of 125 lbs. per square inch.
NOTE: Failure of the thermostatic element will result in the valve remaining in the closed position.