Wika 3A Sanitary Transmitters
The WIKA 3A Sanitary Transmitters, part of the Tronic line of Pressure Transmitters are a series of compact pressure transmitters designed for long term, reliable performance in food, beverage, pharmaceutical, cosmetic and biotechnology industries. Most models feature stainless steel construction, moisture and vibration protected circuitry, and all are calibrated and tested prior to shipment. A variety of options are available on most models to meet specific needs.
All units are compliant with 3A standards and have a stainless steel case and wetted components. Standard output is a 4-20 mA 2-wire, but others are avalable.
List of all Wika Tronic pressure transmitters
S-10-3A Sanitary 3A Pressure Transmitter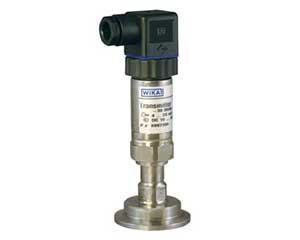 SA-11 Sanitary 3A Transmitter with Integral Cooling Extension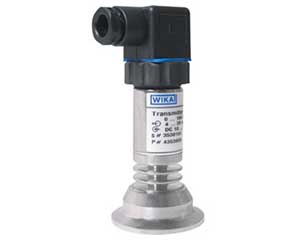 F-20-3A with NEMA 4X Integral Junction Box