WARNING: Cancer and Reproductive Harm - www.P65Warnings.ca.gov
Precision Pressure Gauges and Portable Calibrators
Please note that WALLACE & TIERNAN is now a trademark of Evoqua Water Technologies LLC, and the products offered here are no longer manufactured under the WALLACE & TIERNAN name.

The manufacturing of the Wallace & Tiernan precision pressure gauges and calibrators has been relocated from Germany and are now being done in the U.S. by WIKA Instrument Corporation. They are certified to NIST Standards before shipment. The Certificate of Calibration is included at no additional cost
Series 300 2-3/4" Dial High Precision Absolute Pressure Gauges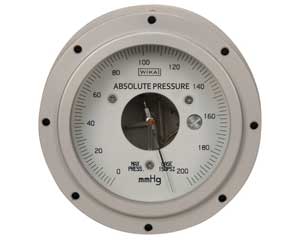 For routine test, laboratory, and production uses, this gauge gives accuracy and compact size. Its mechanism is sensitive yet rugged. And it offers high accuracy at low cost. Available in ten standard ranges, the Series 300 is convenient to use. Absolute pressure is applied to the case and readout is direct, without barometric or temperature corrections.
STANDARD FEATURES
Size: 2-3/4" dial
Scale length: 7" through one pointer revolution
Range: To 100 psia
Accuracy: 0.33% of full scale
Sensitivity: 0.2% of full scale
Case pressure and volume: 150 psig, maximum, and 179 cc
Maximum case leak rate: Will not exceed 0.645 x 10-5 std cc/sec or 0.0019 psi/hr.
Case connection: 1/8" female NPT with built-in stainless steel filter.
Case construction: Anodized aluminum with tempered-glass dial
Covers. Flush mounted by four mounted screws through the bezel.
STANDARD RANGES AND ORDERING NUMBERS
Series 300- 2-3/4" High Precision Gauge
| Range & Calibration | Ordering Number | Graduation |
| --- | --- | --- |
| 0-50 mm Hg | 61D-1D-0050 | 0.5 mm |
| 0-100 mm Hg | 61D-1D-0100 | 1.0 mm |
| 0-200 mm Hg | 61D-1D-0200 | 2.0 mm |
| 0-410 mm Hg | 61D-1D-0410 | 5.0 mm |
| 0-800 mm Hg | 61D-1D-0800 | 10.0 mm |
| 390-800 mm Hg | 61D-1D-0390 | 5.0 mm |
| 0-15 psia | 61D-1A-0015 | 0.2 psia |
| 0-30 psia | 61D-1A-0030 | 0.5 psia |
| 0-60 psia | 61D-1A-0060 | 1.0 psia |
| 0-100 psia | 61D-1A-0100 | 1.0 psia |