Fischer & Porter ABB Series 10B4500 By Pass Flowmeter (ORI-FLOWRATOR)
By-pass meter can be used where the pipe and flow rate is too large for a direct through meter. It uses the differential pressure across an orifice place to drive a precalculated amount of fluid theough the glass tube rotameter installed in the orifice taps. This can be a very economical arrangement for a local display with out the need for electical wiring or signal wiring.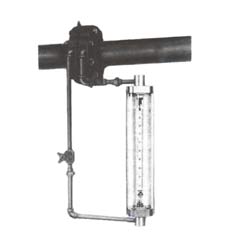 The ABB Series 10B4500 Ori-Flowrator Meter is a variable area flowmeter used to measure large flows of liquids or gases in conjunction with a primary orifice plate. This meter is mounted in a by-pass line around the primary orifice. A ranging orifice, integral with the meter, proportions the by-pass flow to the main line flow. A 1/2-inch size meter is used to measure flow regardless of the main line pipe size.

Since the float position in a variable-area flowmeter is linear with flow rate, the Ori-Flowrator meter can be used to indicate main line flow rate in direct flow units on a linear scale. Standard scales are graduated 8-100 percent full scale. A factor tag is permanently attached to each meter to convert scale reading to flow rate for primary elements with the same differential. Special scales graduated in direct flow units are available.
Features
Low installation cost
Linear indication over 12-1/2 to 1 flow range
Inexpensive method of measuring large flow rates in direct flow units
Polycarbonate shield protects personnel from glass fragments in the event of accidental tube rupture.
Rotatable end fittings
Universal threaded process connections
Metering tube can be removed for range change or cleaning with meter in line
All stainless steel construction
Materials of Construction
Tube:

Beadguided™ Borosilicate Glass

Float and Range Orifice:

316 Stainless Steel

"0" rings:

Standard—Buna N, Viton, EPR

Packing (10B4600 only):

Standard - neoprene;
Optional - molded Teflon liner.

Fittings:

Stainless steel.

Float Stops:

Teflon

Tube Rest Gaskets:

Standard—Klinger-Sil;
Optional—Teflon (10B4600 only)

Glands (10B4600 only):

Stainless steel

Compression Screws (10B4600 only):

stainless steel

Meter Body:

Type 304L stainless steel

Tube Retainer Spring:

Armco 17-7 pH stainless steel, external to fluid stream in "0" ring meters.

Shield:

Polycarbonate

Scales Length:

10 inches (254 mm)

Type:

Standard—Percentage on tube.
Optional—direct reading on external scale with blank tube.

Mounting:

Pipe line mounted is standard

Connections:

1/2-inch NPT internal threaded

Weight:

4 pounds (1,8 kg)

Service Limits:

Glass tube meters are not recommended for continuous service on alkalis above 100°F (38°C) or more than 20% concentrations; nor for fluorine, hydrofluoric acid, water above 200°F (93°C), steam, slurries, or molten metal.
Engineering Specifications
Performance Repeatability:

0.5% of full scale.

Accuracy:

±4 per cent full scale reading when main line orifice plate is sized and installed as recommended.

Range:

12-1/2 to 1(7 to 1 for 25-inch differential meters).

Operational Limits:

Maximum Pressure: 300 psig at 100°F
(2070 kPa at 38°C)
Minimum Temperature: 32 °F (0°C)
Maximum Temperature: 250°F (121 °C)
Capacity
The following capacities are offered as a guide only. The values shown are the maximum flow obtainable through a square edge concentric orifice. Span of maximum values shown are those obtainable by varying the main line orifice diameter ratio between 0.3 and 0.7. Range is 12-1/2:1 in all cases except for 25-inch (6.25 kPa) Differential which is 7:1.

To obtain flow in scfm of air at 14.7 psia & 70ºF multiply values in table by 4.12.
To obtain flow in m3/hr of air 101.4 kPa abs and 21ºC multiply values in table by 7.0.
To obtain flow liters/min. of water multiply values in table by 3.785.
10 inch Nominal Pipe Size
12 inch Nominal Pipe Size