Robertshaw Vibraswitch® Model 366-A8 (366A8 )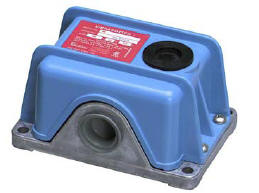 The Model 366-A8 is part of the 366 series of Robertshaw vibration swtches meant for use in a non harardous area.

The model 366-A8 has a Single Pole, Double Throw ( SPDT ) switch which provides a common, open and closed contacts.

It also has a Reset Coil which operates on 120 VAC to allow the switch to be remotely reset. The switch can also be reset manually

The Robertshaw Model 366-A8 vibration Switch comes with a CSA Enclosure 4 and 5 equivalent to NEMA 4 & NEMA 12; Range 0-4.5 G Single Pole, Double Throw Switch, 120 VAC reset coil.

366-A8 Vibration Switch Price = $464.00* ea.
*Includes free shipping in the Continental USA
Call 862-244-4430 Ext. 107

FOB Succasunna NJ 07876
Normally in Stock
Contact us for (5) units or greater
Buck Sales is an authorized representative and distributor for Robertshaw Industrial Products

Price Matching: We will match or beat any valid price offer. Product must be new, traceable to Robertshaw factory, with a full 1 year warranty and in original packaging with operating instructions
Application Assistance.
We have over 25 years of helping customers select and use Robertshaw Vibration Products.